Doctors & Staff
Meet the experienced and friendly doctors and staff who make Frutchey Eye Care, PA the leading provider of vision care products and services in Sanford.
Sandra Frutchey, OD
Dr. Sandra Frutchey was raised in Columbia, SC where she attended USC. She graduated from The Southern College of Optometry where she participated in the Gold Key International Optometric Honor Society and Phi Theta Upsilon Optometric Fraternity. She completed her internships in Clinical Pathology at Moncrief Army Hospital, SC and General Practice at the Golden Vision Clinic, CO. After graduation, she practiced in San Antonio, TX before moving to Central Florida. Dr. Frutchey has lectured to several professional organizations and colleges. She currently serves as an examiner for the Florida Board of Optometry. She has been married to Dr. Mark Frutchey for 16 years and they have a son, Marky and a daughter, Erika. Her interests include scrapbooking, photography, rubber stamping and crafts.
Mark Frutchey, OD
Dr. Mark Frutchey was born in Winter Park, Florida and is a graduate of Winter Park High School. After graduating from Stetson University with honors, he attended the University of Alabama Birmingham as a candidate in the Doctorate of Physiology program. Dr. Frutchey graduated with honors from The Southern College Of Optometry in Memphis, Tennessee. He participated in Beta Sigma Kappa Optometric Honor Society and the Phi Theta Upsilon Optometric Fraternity. After graduation, he completed a fellowship in Ocular Disease at The Eye Foundation in Orlando, Florida. He has lectured to several colleges and professional organizations and currently serves as an examiner for the Florida Board of Optometry. His interests include politics, reading, music and Gibson guitars.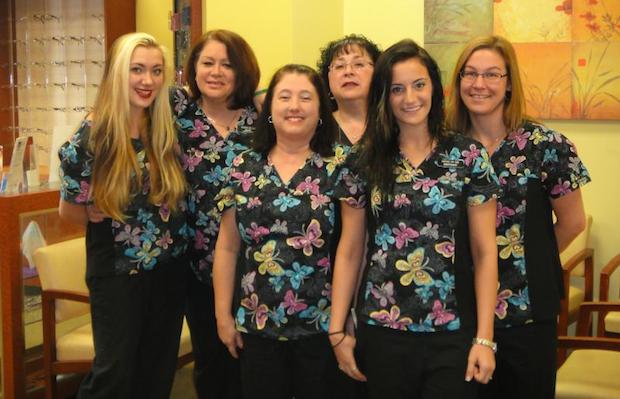 Patty
Patty is our contact lens coordinator. She has been with Dr. Sandra Frutchey for 16 years. She is responsible for greeting patients, making appointments, ordering and maintaining contact lens stock, and general customer service. Patty is married and has two children and three grand children. She also enjoys reading and her cats.
Diane
Diane was born in Miami, FL. She is a licensed optician in the state of Florida and is ABO and NCLE certified. She has been in the optical field since 1975 and has been associated with Dr. Frutchey for the past 20 years. Diane's high level of training makes her a perfect fit for managing our lab and optical area. She is responsible for ordering frames, lenses and maintaining the optical, as well as finishing lenses. Also, Diane loves to keep up with the most current trends and styles in frames and lenses and enjoys helping patients find something that is fun and unique. She enjoys music and spending time with her two girls.
Brittany
Brittany graduated from Seminole High School. Brittany is responsible for pre-testing the patients for the doctors and occassionally you will find her serving as receptionist. Brittany enjoys football and spending time with her son.
Joanne
Joanne is our insurance coordinator. If you have any insurance questions, please email her at FrutcheyEyeCare@gmail.com.
Shea
Shea is our do it all gal. You will find her on Wednesdays filling in for Diane in the optical to teching for Dr. Mark on Mondays, Tuesdays, Fridays, and Saturdays. Shea enjoys riding her motorcycle on her days off.
Charlene
Charlene is another do it all gal in the office, You can find her on Wednesdays filling in for Diane in the optical to being receptionist on the other days. Charlene enjoys skateboarding and surfing the internet.